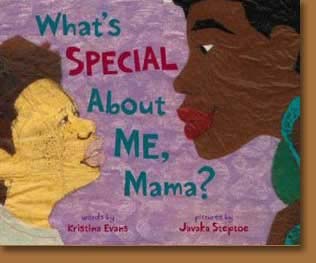 What's Special About Me, Mama?
By Kristina Evans
Illustrated by Javaka Steptoe
Age Range: 3 - 6 years
Grade Level: Preschool - 1
Hardcover: 32 pages
Publisher: Jump At The Sun; First Edition (February 22, 2011)
Language: English
ISBN-10: 0786852747
ISBN-13: 978-0786852741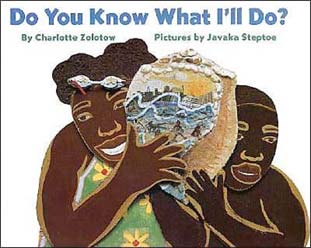 Do You Know What I'll Do?
By Charlotte Zolotow
Illustrated by Javaka Steptoe
HarperCollins Children's Books
New York, NY: September 2000
Reading level: Ages 4-8
Hardcover: 32 pages
ISBN-10: 006027879X
ISBN-13: 978-0060278793
Mixed-media collages set against white backgrounds beautifully expand the simple poetic words…
—Booklist
As Zolotow's poetic images flow in rhythmic question-and-answer format, Steptoe responds in kind (with) stunning illustrations… layered, almost three-dimensional portraits of the striking African-American siblings. Both author and illustrator prove they know how to convey a strong sense of familial love.
—Publishers Weekly, starred review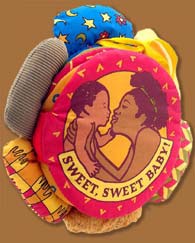 Sweet, Sweet Baby!
Illustrated by Javaka Steptoe
Cartwheel
New York, NY: January 2005
Reading level: Baby-Preschool
Rag Book: 4 pages
ISBN-10: 0439650860
ISBN-13: 978-0439650861
The cloth book Sweet, Sweet Baby!, illustrated by Javaka Steptoe, shows a line of reassuring text on each cloth page and ends with a mylar mirror in which babies can see themselves, bordered with "petals" that squeak, crinkle and rattle. —Publishers Weekly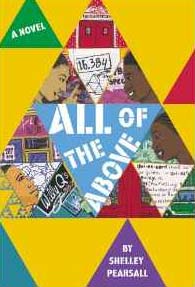 All of the Above
By Shelley Pearsall
Illustrated by Javaka Steptoe
Little, Brown Books for Young Readers
New York, NY: January 2008
Reading level: Ages 9-12
Hardcover: 256 pages
ISBN-10: 031611524X
ISBN-13: 978-0316115247
Based on a true story, All of the Above is the delightful and suspenseful story of four inner city students and their quest to build the world's largest tetrahedron.
Smart and fast-paced, this story inspires as well as entertains.
—Kirkus Reviews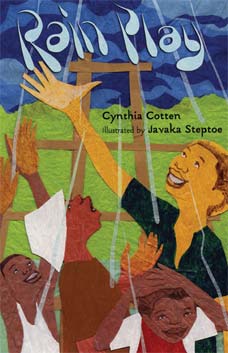 Rain Play
By Cynthia Cotten
Illustrated by Javaka Steptoe
Henry Holt Books for Young Readers
New York, NY: April 2008
Reading level: Ages 4-8
Hardcover: 32 pages
ISBN-10: 0805067957
ISBN-13: 978-0805067958
...the laughing, brown-and yellow-skinned figures dance through the elongated raindrops with infectiously joyous abandon.
—Kirkus Reviews

For kids, a rainy day can be pure play, and this exuberant rhyming poem and buoyant illustrations testify to that. —Booklist

The illustrations make the rainstorm an event. The pictures are so lively that they may inspire readers
—School Library Journal
Hot Day on Abbott Avenue
By Karen English
Illustrated by Javaka Steptoe
Clarion Books
New York, NY: Spring 2004
Reading level: Ages 9-12
Hardcover: 32 pages
ISBN-10: 0395985277
ISBN-13: 978-0395985274
2005 Jane Addams Children's Book Award
It's the hottest, stickiest day of the summer. A fat-sun-in-the-sky day. An eating-ice-pops-on-the-porch day. And for Kishi and Renée, it's a best-friends-breakup day. Each girl sits on her own front porch, waiting for the other to apologize, even though they know they'll never speak to each other again, no matter how bored they get. But then the sounds of feet slapping the pavement and voices chanting double-dutch rhymes drift up the avenue, and neither one can resist going out in the street to play.
This lyrical friendship story, the first collaboration of two outstanding artists, pairs a rhythmic text with distinctive collage illustrations. Its subtle message about sharing and forgiveness will resonate with anyone who has ever experienced the ups and downs of being, and having, a best friend.
...full of movement and energy and joy... So good! —Kirkus Reviews
...high-energy collage illustrations...a satisfying summer story about community and friendship.
—The Horn Book
Innovative illustrations add depth and texture to an evocative text.
—School Library Journal, starred review
English's story is engaging... Steptoe's stunning, mixed-media illustrations make the book soar. —Booklist
In Praise of Our Fathers and Mothers:
A Black Family Treasury by Outstanding Authors and Artists
Compiled by Cheryl Hudson and Wade Hudson
Just Us Books
Orange, New Jersey: February 1997
Reading level: Young Adult
Hardcover: 144 pages
ISBN-10: 0940975599
ISBN-13: 978-0940975590
A wonderful collection of stories, actually reminiscences, told by well-known writers and illustrators. Some 40 people share their memories of their families and how they were influenced by them. The writers include Virginia Hamilton, Joyce Carol Thomas, Angela Johnson, and Walter Dean Myers. There is an interview with the children of the late John Steptoe, conducted by Pat Cummings. Artists include Jeanne Moutoussamy-Ashe, Tom Feelings, and James Ransome. With poems and essays, this unique offering has something for everyone who values family and who values or wants to understand the African-American experience. A visual and literary treasure that will enhance library collections.
—School Library Journal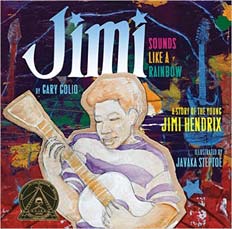 Jimi: Sounds Like a Rainbow
A Story of the Young Jimi Hendrix
By Gary Golio
Illustrated by Javaka Steptoe
Clarion Books
New York, NY; October 4, 2010
Reading level: Ages 4-8
Hardcover: 32 pages
ISBN-10: 0618852794
ISBN-13: 978-0618852796
Golio's lyrical text sings with delicious description, and Steptoe's wildly colored mixed-media illustrations show the hues of the boy's imagination, with Hendrix always standing out from his surroundings.
A fascinating "Illustrator's Note" illuminates the process behind the intriguing artwork and underscores the book's theme of exploring the creative process.
—School Library Journal, starred review
Jimi Sounds Like A Rainbow: Hendrix For Kids —NPR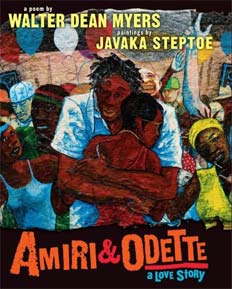 Amiri and Odette: A Love Story
By Walter Dean Myers
Illustrated by Javaka Steptoe
Scholastic Press
New York, NY; January 1, 2009
Reading level: Young Adult
Hardcover: 40 pages
ISBN-10: 0590680412
ISBN-13: 978-0590680417
Steptoe gets gritty, working directly on slabs of asphalt, a street effect intensified by the graffiti-like use of multicolored and multisize fonts in the text. His figures are shadowed with ghostly blue; they leap, ward off blows, embrace, argue. It's easy to imagine them as dancers.
—Publishers Weekly
ORDER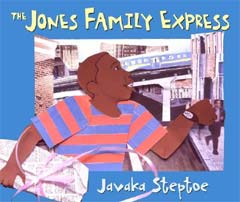 The Jones Family Express
Written and illustrated by Javaka Steptoe
Lee and Low Books
New York, NY: Spring 2003
Reading level: Ages 4-8
Hardcover: 40 pages
ISBN-10: 1584300477
ISBN-13: 978-1584300472
... the mix of materials is inventive, and the skillful compositions are filled with action, palpable affection, and the pride Steven finds in his own creativity. —Booklist
...bustling with the rhythm and energy of urban life... —School Library Journal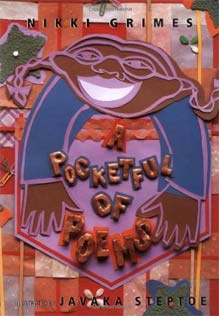 A Pocketful of Poems
By Nikki Grimes
Illustrated by Javaka Steptoe
Clarion Books
New York, NY: Spring 2001
Reading level: Ages 4-8
ISBN-10: 0395938686
ISBN-13: 978-0395938683
A playful and thoroughly successful pairing of words and pictures. —School Library Journal